EMU AUSTRALIA SHARKY MICRO
EMU AUSTRALIA SHARKY MICRO
Regular price
£109.00
Sale
Water resistant 100% Australian sheepskin upper
Soft Australian sheepskin footbed for extra comfort and warmth
Rubber light EPR midsole
Double stitched seams
Unique durable rubber 'sharky' serrated outsole, for extra grip and style
Woolmark Accredited
Product Description
EMU Australia's Sharky Micro provides a new spin on the iconic women's Stinger sheepskin boot. Pop colours and a unique sole construction give the double face sheepskin boot a bold new twist. A cushioning EPR forming mid sole delivers comfort and support while the serrated 'Sharky' teeth on the rubber outsole provide extra grip, and are iconic to this collection. The water resistant sheepskin outer makes them an all day, every day casual choice for women worldwide.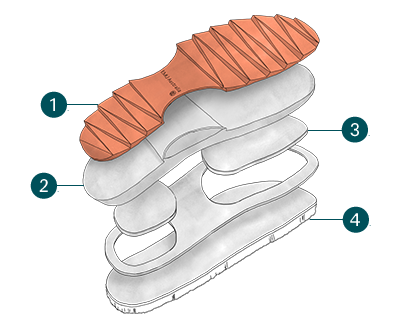 The Sharky Collection
1. Serrated rubber outsole

2. Rubber light EPR forming midsole

3. Foam Inserts

4. Australian sheepskin insole
Delivery: FREE UK Standard Delivery for orders over £50. Orders less that £50 as standard £2.99 charge. Express UK £8.00. International £9.99. European £4.99. There are also options to collect from a store. Returns: As in our stores, customer satisfaction is always our top priority and therefore we handle each query individually and to the best of our ability. Whilst we want you to be completely satisfied with your purchase, if you are not, we will happily offer you a full refund or exchange in compliance with our policy. DISCLAIMER: INTERNATIONAL CUSTOMERS - We cannot ship goods by Annette Gortz to any location in the U.S.A. Any orders placed will be cancelled and refunded. RENTALS: Delivery for ALL RENTAL ITEMS is included in the RENTAL price for the date range selected. RETURN POSTAGE is also included, which will be provided inside your parcel. Please use the return labels provided to ensure you are fully covered for any loss or damage in transit. If you use an alternative shipment method, you will NOT be covered for any loss or damage during transit. See our T&C's for more information.